Hotel Amadeus
Location: Calle Farnesio, 5
Prices start at: 91 €
Make a Reservation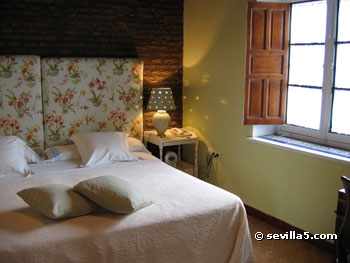 Each room is unique, as indicated by the name of a different classical composer on each door. All rooms have been recently renovated and include such conveniences as climate control, complete bath, and satellite TV with remote control. Some rooms have windows onto the pedestrian street below while others look onto one of the interior patios. Most rooms have high ceilings with the original exposed wooden beams. Guests can choose from a large junior suite with three exterior windows, superior (larger) double rooms, charming standard double rooms or an attic room with terrace and view of the city. Regardless of which you choose all rooms have beds of excellent quality for a good night's sleep.
Rooms in Hotel Amadeus offer the following amenities:
Air Conditioning/Heating
Full bath w/hair dryer
Mini-bar
Direct dial telephone
Satellite TV with remote control
CD player/radio
Safe in room
Wi-fi internet access throughout the hotel
Some rooms have windows onto a pedestrian street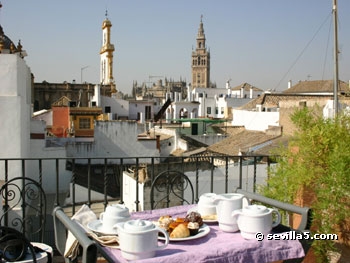 The architectural plans and renovations of the hotel preserved the details of the 18th century house and include the original floors, tiles, doors and traditional patios. The decoration stands out from other hotels, as the family has gone out of it's way to include beautiful furniture, original art and other pieces in keeping with the classical music theme. You will even spot a picture or two of the children, all of whom grew up playing an instrument.
Guests will enjoy use of three sitting rooms and the roof-top terrace with a beautiful view of the Cathedral. Guests can also choose from a library of classical music CDs.
The hotel facilities include:
Roof top terrace with view of the Cathedral.
Central Andalusian patio
Glass elevator
Library of Classical CDs available for guests use
Wi-fi internet access throughout the hotel.
Private hotel parking
The hotel is well located in Barrio Santa Cruz, known for it's small and charming streets, houses and patios. Guests are close to just about everything, including the central shopping district, monuments and some very good dining. The hotel is just five minutes from La Carboneria, a favorite nightlife spot amongst tourists and locals for live flamenco and the arts.
Approximate walking distances:
Cathedral and Alcazar - 5 minutes
Shopping district - 7-8 minutes
Plaza de Toros - 12 minutes
Guadalquivir River - 12 minutes
Casa de Pilatos - 10 minutes
Museum of Fine Arts - 15 minutes