Hotel Don Pedro
Location: c/ Gerona, 24
Prices start at: 75 €
Make a Reservation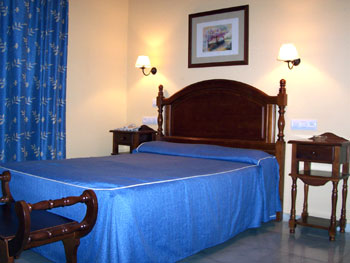 Five of the guest rooms on the top floor have private terraces with views of the surrounding neighborhood. The remaining rooms have exterior windows or face the interior courtyards. Room decoration is simple and classic: wood furniture, marble floors and simple wall prints. All rooms have a full, private bath, air conditioning, heating and television. Each room has been named after a famous monument or sight in the city.
Air Conditioning/Heating
Full bath
Direct dial telephone
Satellite televisionl
Non-smoking rooms
Some rooms with private terraces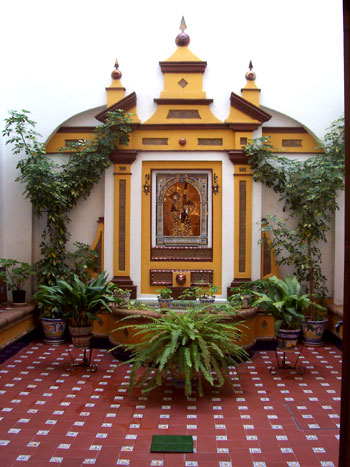 Guests enter through the main doors into the central courtyard and sitting area. From the courtyard guests will find the doors leading to an outdoor patio with a ceramic tiled fountain. The stairway and elevator lead to the upper floor guest rooms. Snack machines and free hot beverages are just off the main courtyard. The reception staff are always on hand to aid with booking a variety of services and events.
The hotel facilities include:
22 rooms
Covered central patio and outdoor patio
24 hour free hot drinks (coffee, tea and hot chocolate)
Snack machine
24 hour reception
Elevator
Laundry service
Luggage storage
Handicap facilities
Safe deposit box (in reception)
Hair dryer
The hotel is in the center of Seville, located in the Santa Catalina quarter, adjacent to the Santa Cruz neighborhood. Guests will find three casa-palacios nearby: the Casa de Pilatos, Palacio de las Dueñas, and the Palacio de Lebrija. Plaza Alfalfa and the shopping district are within 5 minutes walk, while the Cathedral and Alcazar are about 10 minutes away. Just outside the hotel within less than a minute's walk, guests will find a dozen tapas bars and restaurants which are very popular with locals and tourists, including El Rinconcillo, La Huerta and our favorite: Restaurante Jano.
Approximate walking distances:
Plaza Alfalfa: 4 minutes
Shopping district - 6 minutes
Casa de Pilatos - 7 minutes
Cathedral and Alcazar - 10 minutes
Plaza de Toros - 13 minutes