Hotel Reyes Catolicos
Location: Calle Gravina, 54
Prices start at: 64 €
Make a Reservation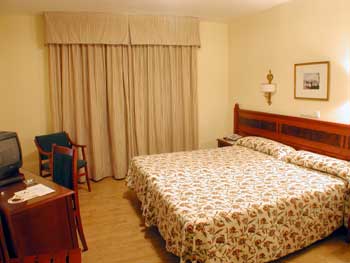 All of the rooms have been recently renovated and offer many modern amenities such as climate control, complete bath, and satellite TV with remote control. Many rooms have windows onto the street below. Rooms in Hotel Reyes Católicos offer the following amenities:
Air Conditioning/Heating
Full bath
Direct dial telephone
Satellite TV with remote control
Piped music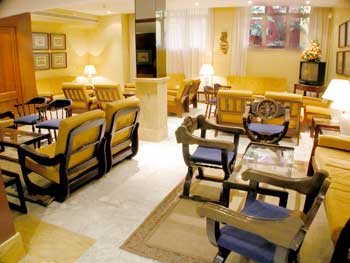 The hotel has an experienced and friendly staff, and offers many modern conveniences. Shared facilities with the Hotel Montecarlo provide guests with additional services such as a full service restaurant and breakfast buffet. Guests will enjoy the the central location of the hotel and it's bar and sitting area downstairs. The hotel facilities include:
Separate salon with bar and television
24 hour reception
Elevator
Breakfast Buffet (available at Hotel Montecarlo)
Children up to 7 years of age at no charge
Private hotel garage and parking
Services and facilities of Hotel Montecarlo are available to all guests of the hotel.
The hotel is centrally located as well as close to the river, Triana neighborhood and the narrow, charming streets surrounding the Museum of Fine Arts. Only a 5 minute walk to the central shopping district and close to the major monuments.
Approximate walking distances:
Cathedral and Alcázar - 10-12 minutes
Shopping district - 5 minutes
Plaza de Toros - 4-5 minutes
Guadalquivir River - 4-5 minutes
Museum of Fine Arts - 5-6 minutes