Hotel Un Patio en Santa Cruz
Location: Calle Doncellas, 15
Prices start at: 76 €
Make a Reservation at sevilla5.com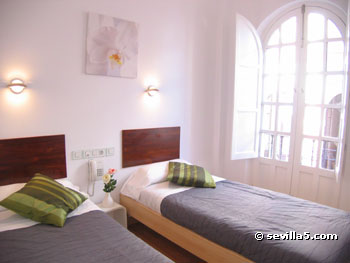 Each room is decorated with elegant, modern furniture and hardwood floors, as well as select paintings and prints. The decoration and modern style provide a light and airy feel to the rooms. While there is little concern for noise on the pedestrian street, the renovation included the installation of double-paned windows, ensuring a quiet and peaceful stay. Each room contains a modern, fully equipped bathroom.
Rooms in Hotel Un Patio en Santa Cruz offer the following amenities:
Air Conditioning/Heating
Full bath
Direct dial telephone
Satellite TV with remote control
Safe in room
Non-smoking rooms
Small pets allowed
In room internet access via hotel WiFi connection
Four rooms with balconies to the street
Connected rooms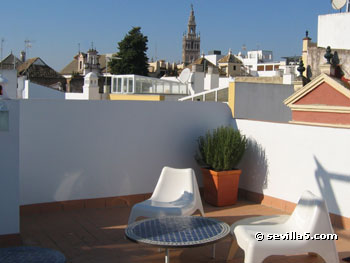 Guests enter on the ground floor reception and are welcomed with small sitting area and reception desk. The hotel's roof terrace includes tables, chairs and plants so guests can relax and enjoy the view of the Giralda and several churches in Santa Cruz. All floors, including the terrace, are directly accessible via elevator. Guests may use the high speed internet connection free of charge, via WiFi, or wireless technology.
The hotel facilities include:
13 rooms
Central Patio
Roof top terrace with view of the Giralda
Central reception and sitting area
Elevator
WiFi Internet access
Fax service
Handicap facilities
The hotel is in the center of Seville, located in the Santa Cruz quarter close to the Murillo Gardens. Guests are very close to the Cathedral, Alcazar and Archivo de Indias. The Santa Cruz quarter offers many pedestrian streets, plazas with outdoor dining and small shops. The central shopping district is also close by.
Approximate walking distances:
Murillo Gardens - 3 minutes
Cathedral and Alcazar - 5 minutes
Shopping district - 7 minutes
Parque Maria Luisa - 10 minutes
Guadalquivir River - 12 minutes
Plaza de Toros - 12 minutes