Hotel Villa de la Palmera
Location: Avenida de la Palmera 57
Prices start at: 143 €
Make a Reservation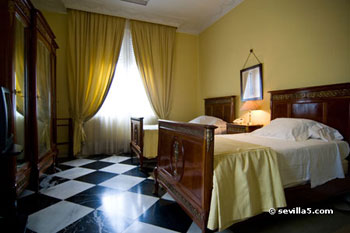 The guest rooms are situated on the ground or second floor. The first floor is exclusively for common use: reception, two living rooms, dining room and terrace. Each guest room is uniquely decorated, with careful consideration given to colors, fabrics and furniture. Rich woods such as mahogany are featured in many the armoires and beds.

Rooms in Hotel Villa de la Palmera offer the following amenities:
Air Conditioning/Heating
Full bath w/hair dryer
Direct dial telephone
Internet access (WiFi) Free
Satellite TV with remote control
All rooms have exterior windows
Some rooms have balconies
Non-smoking rooms
Baby cot on request
Luxury room with jacuzzi bath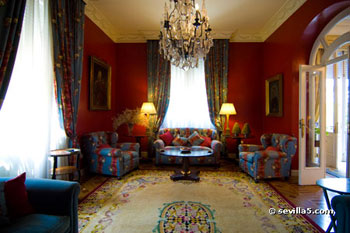 The owners chose to leave much of the original furnishings in the home, including an impressive collection of paintings and antique furniture which the family has acquired over several centuries. The two living rooms feature works by 15th century painter Bartolome Esteban Murillo, fireplaces, and marble or parquet floors. Comfortable chairs and sofas make either room a restful alternative. Just outside guests can choose to relax on the terrace or in the poolside gardens. The home has been the subject of several magazine articles, and art historians have paid visits to document the paintings and antiques found throughout the house.
The hotel facilities include:
12 guest rooms
Breakfast
Room service
Swimming pool
Deck chairs and towels (free)
Terrace with tables and chairs
Gardens
2 large guest living rooms on main floor
2 small sitting areas on ground and second floor
WiFi internet access (free)
Central 24 hour reception
Private parking (free)
Laundry service
Conference facilities
Small pets permitted
Safe in reception
The Hotel Villa de la Palmera is located on the Avenida de la Palmera, site of the Ibero-American Exposition of 1929. The location is outside the city center, yet convenient to many of the green spaces of the city, including the Maria Luisa Park. Guests can reach the city center in a variety of ways: by taxi in 5 minutes; by city bus (stop just 50 meters from hotel); or by bicycle, making use of the city's new extensive system of bicycle lanes. The Avenida de la Palmera is lined with palm trees and home to the beautiful buildings constructed for the 1929 Expo, many of which have extensive gardens and now serve as consulates, private residences or official university buildings. Adjacent to the hotel is the stadium of the Real Betis Balompie football team. Close by is the Hospital Virgen del Rocio, as well as the neighborhood and University branches along Reina Mercedes.

Approximate walking distances are below. The hotel is outside of the city center, and we recommend taking a taxi (5 minutes to historic center) or city bus (bus stop 50 metres from hotel; about 10 minute ride to the city center):

Real Betis Football Stadium - 1 minute
Parque Maria Luisa - 15 minutes
Cathedral - 25-30 minutes