Pension Bienvenido
Location: Calle Archeros, 14
Prices start at: 40 €
Make a Reservation at sevilla5.com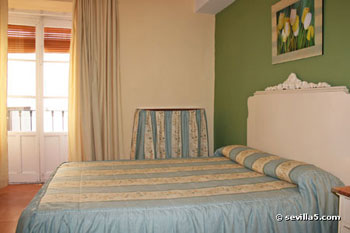 Rooms in the Hostal Pensión Bienvenido are comfortably furnished, and most have high ceilings due to the architecture of the historic home. The decoration and style of most of the rooms exceeds the standards of the average budget accommodation. Rooms offer the following amenities:
All rooms have a shared bath situated outside of the room
All rooms have a wash basin inside the room
Optional air conditioning (at additional cost)
Many rooms with balconies
Most rooms with exterior windows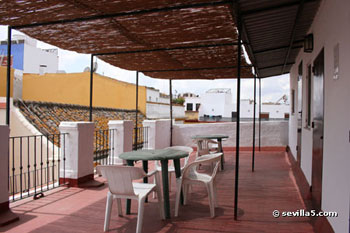 Guests enter the pensión through one flight of stairs to the reception on the first floor. A small waiting area with chairs serves as the main reception. Adjacent to reception is a stairway which leads to the upper floor rooms and the roof terrace. To the left are two hallways which lead to the first floor guest rooms. Natural light filters into the hallways from several sets of french windows which border the interior patio.
14 guest rooms
Large roof terrace with chairs and tables
24 hour reception
Luggage storage
Tourist information
Hostal Pensión Bienvenido is situated in the heart of Santa Cruz and the old Jewish quarter, just a few minutes walk to the Cathedral and Alcazar. This section of the city is mainly comprised of small pedestrian streets, and is an excellent location to explore the city on foot. Just outside the main entrance, guests are less than a minute's walk from two churches which were once synagogues.
Approximate walking distances:
Cathedral and Alcázar - 5 minutes
Casa de Pilatos - 5 minutes
Plaza Alfalfa - 7 minutes
Shopping district - 10 minutes
Parque Maria Luisa - 10 minutes
Guadalquivir River - 15 minutes
Make a Reservation at sevilla5.com