Hostal San Pancracio
Location: Plaza Las Cruces
Prices start at: 40 €
Make a Reservation
Most of the rooms have a private bath and windows facing the flower filled patio. Rooms offer the following amenities:
Most rooms with private bath
Some rooms with shared bath
Heating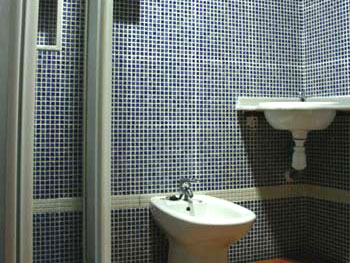 The small winding streets and orange tree filled plazas are the endearing features of this area. La Plaza de las Cruces is just a few steps away from los Jardines de Murillo, several typical Sevillian Cafes and small shops with locally handcrafted products. The hostel also offers easy access to Prado San Sebastian bus station, Parque Maria Luisa, Plaza de España, and the main train station that serves Sevilla. This hostel is especially recommended for guests looking for a tranquil and enjoyable stay. The hostel closes every night at around 1:30am.
Andalusian patio
Reception (not 24 hours - this hostal closes at night)
Luggage storage
Approximate walking distances:
Cathedral and Alcázar - 5 min
Casa de Pilatos - 9 min
Parque Maria Luisa - 10 min