The first four cervecerias listed below are known for a couple of things: the coldest beer in town at a cheap price and they are often crowded on Saturday and Sunday afternoon's, just before people hit a restaurant or tapas bar to get something to eat. My favorites are El Tremendo and Bar Jota.
El Tremendo
(Santa Catalina)
It's a cerveceria located in Santa Catalina which specializes in one thing: cold beer! And this is the definition of one ugly hole in the wall bar. But this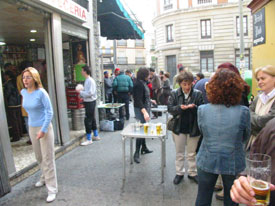 is a famous place in Sevilla. With larger glasses and prices under a 1€, El Tremendo is a common place for a beer after work or to get the evening started. While they bartenders may push what they like to call tapas, there's nothing hot or cooked offered. Mojama, a salty dried fish, is the closest thing to a tapa you'll find. Otherwise your choices are chips and nuts, and did I mention the cold, cold beer? Stand outside (no chairs) with the rest of the crowd where tables are set up along the corner of the street. Bathrooms may be the smallest in all of Sevilla. Next door is another bar which takes advantage of the spillover - the two kind of blend together. Keep your eye out for Curro, the neighborhood dog who spends his days and nights between El Tremendo and Plaza de los Terceros.
Bar Jota
(Nervión - Avda. Luis Montoto)
Another place famous in Sevilla for it's beer and pretty much nothing else. Well, there are a few tapas including gambas, but it's not what people are here to sample. Rather it's Cruzcampo served cold and like others in this category you enter, order up - just say the number of beers you'd like when it's busy - then head outside with the rest of the people on the sidewalk. A great place to start for a beer or two or three as you decide where to go to next.
La Bodeguita Antigua and Los Soportales
(Centro - Plaza Salvador)
After undergoing renovations with much of the rest of the plaza and church these two bars are now open, but some of the atmosphere is lost until the Plaza is back in it's old form. Both are a great place for a cold beer, plate of olives and a little jamón. Live music can be found on some days, vendors selling everything from toys for the kids to candy and potato chips. People would spill into the plaza and line the steps of Iglesia Salvador. But for now, the action is limited to the smaller part of the Plaza Salvador.
La Plazoleta
(San Juan de la Palma - Plaza San Juan de la Palma)
A plaza with a few palm trees in the middle and plenty of space to mingle outside the bar. La Plazoleta is a great stopping point on the weekends before lunch or for a quick tapa. Plenty of cold, cheap beer make it a favorite for locals.
Texas Lone Star Saloon, aka: Tex-Mex Bar
(Centro - c/ Placentines near the Cathedral)
Ok, it's not a cerveceria in the traditional sense but it can be a good place to start the evening. Get your fill of American atmosphere the minute you walk in the door, which is within site of the Giralda. Walls are covered with college banners, assorted stuff from Texas and military memorabilia. Owned by a director of a study abroad program in Sevilla it's more of a place for beer, sports and American/Tex-Mex bar food. If there's a game on somewhere it's likely to be here. Weekly NFL games, the Superbowl, NCAA Basketball championship, NBA games and playoffs as well as every Sevilla or Betis away game. You can also catch episodes of Friends in English, the Oscars and other events, just check the chalkboard in the street. Front bar area has a pool table and 4 televisions. Back dining area offers more seating with another 4 screens. Drink specials during the week and Friday include all you can drink Cruzcampo for 10 Euros - put your drinking cap on. Free popcorn often comes with your drink (Bud on tap if you wish to drink it) and the burgers are pretty good.
Cervecería Internaciónal
(Arenal - c/Gamazo)
If you want to try a sampling of beers from around the world or are just missing a beer from back home head to Cerveceria Internacionl where you'll have a choice from over 300 beers. Choose from the display of bottles along the wall or their menu which lists nation of origin, alcohol content, size and price. Speaking of price it can get pricey drinking here. Some beers contain very high alcohol content - check the menu to see how much you're getting. The higher the content the worse it gets in my opinion: if you want more alcohol take a shot and use the beer as the chaser!
La Fábrica
(Plaza de Armas - Mall)
Looking for the brew pub experience? Sevilla's only true micro-brewery can be found in the Plaza de Armas, located in the (fairly) new and renovated Córdoba train station which is now serves as a mall. A choice of five or so beers as well as some good tapas bring in a mixed crowd, although it's not the cheapest place around. I tried their specialty, bacalao frito y dorado, which is similar to scrambled eggs with bits of cod served in a cazuela. Sounds weird, but it's quite good. A good place to start the evening and a good place to sample something other than Cruzcampo, which, by the way, is still the best beer on earth...
Cerveceria Europa
(Nervión - Luis Montoto)
If beer from Europe is your thing then you'll get a good selection in this bar just across the street from the El Corte Inglés. Plenty on tap but even more in bottles.


There is a long list of choices when it comes to a bar de copas, and much depends on what kind of mood your in. After a beer or two you may find yourself heading to one of these spots for some mixed drinks.
Sopa de Ganso CLOSED
(Alfalfa - c/Pérez Galdós)
Offering a wide range of tapas as well as copas this bar offers a bit more space than some of the others on Pérez Galdós. You can find some good food in the early hours but later in the evening the place is set up for drinking. Music varies but they play more rock and spanish pop than anything else. Being a bar de copas the beverages of choice are mixed drinks, but note that beer is a little pricey here at 2€ a pop.
La Rebotica
(Alfalfa - c/Pérez Galdós)
If chupitos, or shots, are what you're looking for this is the place to go. A definite "hole in the wall" bar with a list of over 50 different shots is opposite the bar, some named for celebrities ("Harrison Ford", "Kim Bassinger" - the names show the bar opened in the mid-80's) while others are a bit more clever, like "Pipi de Burro", "Orgasmo", "Moco", "Cerebrito". Each shot costs about 1,20€. The walls were papered in old comic books, and retro '80s tunes were playing all night when we were there. This has since changed since a recent redecorating effort and more modern music. The shot menu is still there but much smaller and hard to read. Liked the retro bit before, but still a good place for cheap shots and copas.
Cabo Loco Bar
(Alfalfa - c/Pérez Galdós)
A little island and Native American ambience in a little bar. An Important part of la marcha near the Alfalfa, you can try to squeeze in or spill out into the street like most do on Calle Sopa de Ganso. A wide variety of shots with a backdrop of Indian "artifacts" like axes, clothing and more.
El Mundo
(Alfalfa - c/Siete Revueltos)
Located down a side street from the Alfalfa it's often not open until after 12pm, the bar is dimly lit with what I'd call an eclectic atmosphere. While many call this a gay bar it is generally a good mix. A painted wall mural with nudes - male and female - are featured on the left when you walk in. The bar is towards the back, with a companion bar behind a gate at the front which is open when things are very busy. When you need to use the bathroom just make sure you know if you're a tigre or a vaca.
El Perro Andaluz
(Santa Catalina - c/Bustos Tavera)
Recent, extensive renovations including much needed air conditioning and the third paint job in the last 4 months have transformed the bar from a dive into more of a hip atmosphere. Unfortunately the last color they chose was gray. Paint aside they offer live music 4-5 times per week, with mostly local acts but some out-of-towners as well. Clientele includes local musicians and actors as well as your everyday folks. A decent DJ plays tunes when nobody is performing with a mix of Spanish and other rock, none of the pop/disco type music you'll hear on Calle Betis.
La Cara B
(Santa Catalina - c/Bustos Tavera)
Located next door to El Perro Andaluz and owned by a former local musician it gets some overflow from El Perro Andaluz, but it's typically a different crowd. If you like dives, this place fits the bill. A never used stage with a large mural/back drop of a singer, a faux dinosaur skeleton and other strange items behind the bar are part of the atmosphere. Smoky and dark, it's a mellow crowd for a late night copa.
La Carboneria
(Centro - c/Leves 18)
Famous from it's mention in almost every guide book about Sevilla, it's still worth a trip. Free music, often Flamenco, can be found in the back covered Terraza, popular in the summer and winter. The front bar with a more rustic, winter pub atmosphere includes a piano, stone walls and floors, fireplaces and wooden tables and chairs. A mix of people, from pijo to earthy, spanish to every nationality under the sun, with plenty of Americans if here for only a day or two. Aside from it's reputation as tourists bar, when there's a live act and I've got a friend in town they always come away liking the place.
Antiguedades
(Centro - c/Argote de Molina)
Just down a side street from the Cathedral, Antiguedades is a good stopping place with a mix of old and young. Likely a good place for Halloween considering the morbid stuff hanging from the ceiling: bodies, faces and other creepy stuff. Large bar allows you to find a corner to order a copa and head into the street with the rest of the crowd.
La Ilustre Victima
(Alameda - Doctor Letamendi, 35)
Just down a side street from Calle Feria they offer a wide range of food, including Moroccan, typical Spanish and samplings of the Mediterranean. Some outdoor seating with a large bar inside. Turns into a bar de copas at night with a lively, mixed group. You may see the occasional artist or local celebrity hanging around. A few blocks away you may see some questionable women, if I may puta it that way. But it's a safe place with a good crowd.
Cafe Hercules
(Alameda - corner of c/Guadiana and c/Peris Mencheta)
Ok, I hate the term but perhaps a little boheimian in atmosphere. You may catch a glimpse of a local actor or two. Tables outside in the warmer months and nice and cozy inside.
Fundicion
(Triana - c/Betis)
If you're looking for a lot of Americans and other internationals come here. Drinks, music and pool, and again, a lot of Americans with a few Spaniards from time to time. Cheap drink specials during the week make it a stopping point for many enjoying the river and action of Calle Betis.

When the action winds down in the bars the discotecas are often still open, many until 6 or 7am. Drinks are more expensive and the bouncers often select the clientele at the door.
Boss
(Triana - c/Betis)
One of the biggest discos around is Boss, located across the river from the center on Calle Betis. With 4 bars located at various levels and a very large, stadium type dance area it's a favorite of many for the late night scene. Dress well and go in small groups to get in, but as with many discos be prepared to be turned away at the door for whatever reason. You'll find plenty of young Spaniards as well as internationals. A fixture in Sevilla and the Calle Betis scene.
Antique
(Isla de la Cartuja - Expo 92 site)
Many with hopes of spotting a local or national celebrity, including actors, artists and fútbol players, try to get into Sevilla's most upscale and swank disco. Located in the former Olympic Pavilion of Expo '92, it's been completely renovated and is fit to please the most avid disco-goer. Be very prepared to be turned away at the door, especially if you're not dressed for an expensive evening. During the summer there is a terraza where you can enjoy a breeze.
Catedral
(Alfalfa - c/Cuesta del Rosario)
A smaller disco located just down the street from Plaza Alfalfa, Catedral offers copas and dancing until late at night. A reputation for having the most modern sounds they're well known for new music from the hippest international locations, if that's your thing. Smaller than many of the other discos, there's still enough room to move about.
El Coto
(Nervión - Luis Montoto)
The look and feel of the 80's, and in a bad way. With an entrance on the Avenida and one from a hotel you know what you're getting into, or do you? Select clientele at times and definitely not for a younger crowd, although I see some poor, younger souls wander in there from time to time.
Notre Dame
(Sevilla Este - Avenida Montesierra)
Picture a gothic cathedral and you'll get the atmosphere of this place. Carefully decorated with a large crucifix at the entrance to prepare you for the rest of the place. Dimly lit but bustling with activity in the late hours, techno and other modern rhythms contrast the gothic ambience. Being in Sevilla Este it's new and has a younger crowd. It's also far from the center of the city.
Weekend House Club
(Centro - Avda Torneo 43)
Another recent addition to the discoteca scene with a reputation for house music. It's located on the city center side of the Expo '92. Elaborate decoration and pricey drinks, but it's known to be the one of the "hippest" joints in Sevilla. From a center stage cage filled with go-go dancers to the semi-famous Barbie the Destroyer, the dancing transvestite there are visits by well-know DJs, lasers and lights as well as a thumping new sound system - enough to keep the neighbors up until 7am. A young crowd with a good mix of hetero and gay patrons. From time to time they also clear the place for some concerts - from metal to hip-hop. If you like flash they've got a fun website.
Babilonia
(Los Remedios)
Just across the river using Puente de las Delicias and located in what looks like the warehouse district, you'd never imagine it's tucked away in this place when you first enter the street. That is until you see the cars parked every which way. They like to turn people away at the door, so come well dressed and in coed couple form if possible. We saw two guys by themselves who were turned down, but then offered entrance for 30€ apiece, a creative way being open to everyone but saying "no". If you're liked the entrance is free of course. Also, if you become a member you get your private VIP entrance. The atmosphere is hip meets hippie meets Morocco, with lot's of candles and incense, rustic wooden chairs and tables all complete with hookahs. A number of bars to choose to order from with famously handsome waiters dressed in all-white Moroccan garb. In the back there's plenty of seating with more candles and incense, which makes it an attractive place for people watching if you don't do the disco thing. It's an open air summer place with a large dance floor under the palms. Music is of the summer pop variety with some old classics to keep you dancing. Closed in late fall and winter, but Goa, it's winter counterpart is open.
There's always room for something a little different - most of these bars cater to the English speaking crowd, offer your typical stouts and other brews from the north. You'll always find a good selection of whisky as well. Many are the best places to take in a football match or other sporting event, as well as meet some fellow travelers.

Flaherty's
(Centro - c/Alemanes)
The action never stops in the biggest tourist bar and Irish pub in Sevilla. Located a few meters from the Cathedral you'll never enter without hearing English as well as a few other languages. Outdoor seating, a few bars and a back dining room give you plenty of choices. Big screen TV used for European soccer games and rugby only - no American sports! A favorite of many visitors and despised by some locals go late at night to get your fill of raucous crowds, shots and heavy drinking. During the day a favorite place for displaced tourists looking for pub food. Flaherty's is a chain, with a few other locations in the larger cities of Spain.
Merchant's Malt House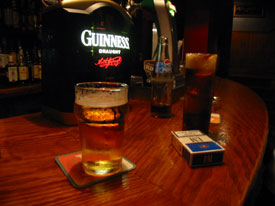 (Centro - Calle Canalejas, 12)
The atmosphere of an Irish pub without the crowds of tourists you see in it's Irish counterpart, Flaherty's. Dark red interior, plenty of wood furnishings with lot's of old advertising signs for beer and liquor, the standard stuff for these places. Upstairs offers a second bar with some comfortable couches and a fireplace. Large screen TV with every Betis and Sevilla away and home match as well as weekly Premier League and rugby matches. At least 10 different bottled beers as well as 3 on tap. Video trivia contests in English and other activities as well.
Pub Madigan's
(Los Remedios)
Located in the Plaza de Cuba just across the bridge to Los Remedios there's an authentic Irish feel to the inside of the pub. Large amount of outdoor seating you can choose from a decent selection of the beer on tap or in bottles. Also a good place for a coffee. Prices can be a little steep.
O'Neill's, The Irish Pub
(Edificio Viapol)
Very nice place and more or less genuine atmosphere. Three bars, one at the front, just behind it and an even larger one downstairs - give you plenty of places to choose from. A large pipe organ is the center piece of the bar downstairs. Bad disco music - the 70's stuff - was playing when I was there, but it was a Wednesday night. Guinness, Heineken, Murphy's Red are all on tap, as well as a selection of bottled beers. A small beer on tap, about a half pint, will set you back 1,80€, though, so I can't recommend the place by price. But the feel is somewhat authentic and without the obscene quantity the drunk foreigners that come with Flaherty's in the center, but still expect plenty of guiris.
The Trinity
(Centro - Plaza Nueva 7)
This place is kind of pricey as it's part of Hotel Inglaterra. I've been twice, once on St Patrick's day. And I don't recommend this as the Irish Pub in which to spend St Patrick's day if you're looking for an upbeat crowd. Staff was very nice and we got a green, white and black hat for free thanks to Guiness. (Good for the Betis games!) But it was expensive and it's an older crowd - ok if you are or want that. A nasty drunk sneered at us and made unwelcome comments to everyone, including the nice guys behind the bar. Maybe a good place for a quiet drink, when the nasty drunk isn't there of course.
The Clan, Scottish Bar
(Arenal - c/Adriano)
The only Scottish bar in Sevilla, as far as I know. This one serves up a decent selection of beer, inclduing some drink specials like 2 for 1 Heineken during the week. Televised events include Premier League and Rugby matches, Spanish soccer matches and more. Close to plenty of other bars in Arenal and not a bad place to start things off.
Kennedey's Irish Pub
(Porvenir - c/ Cardenal Bueno Monreal)
Another Irish pub! Perhaps the most authentic of the bunch? Plenty of beers on tap, plenty of Irish and other whisky, many coffees spiked with your choice of liquor. Add a bunch of imported antiques direct from Ireland and you have a pretty good Irish pub. Live music on the weekends and a large menu of Irish food, of course with a bit of pub fare such as hamburgers.
Collin's Irish Pub
(Santa Cruz/Alfalfa)
I hesitate to even list this one, but as many pass by it and may think it's an option I'll put it down. My question: is this place ever open? I've heard from their neighbors that they do open every once in a while, but in my time here I've seen the doors half-open a total of one time. Offering Guinness is about the only thing I can tell they do. I'd just say don't bother unless you get a call from someone actually inside the bar when they're serving drinks. Recent update - I saw 3 people there around midnight on a Saturday. They offer cheap shots, but there doesn't seem to be much going on here.
La Taberna Irlandesa
(Santa Catalina - c/San Felipe)
Another one with little claim to the genre of Irish pubs, but they use the name in Spanish, and in English on the sign at the beginning of the street. They do offer different beer and show a soccer match each week, although it is almost always a Sevilla match, and sometimes a Betis match if you believe the signs. They have a habit of posting games and then deciding not to buy them right before start. The fellow running the place isn't very pleasant either. The food is Spanish. So if you need a beer from abroad you might come to this place. Otherwise my recommendation is to search for an authentic Irish pub someplace else.
Tablaos
Tablaos are where you'll see the most professional and quality shows. Artists are can range from the nationally to internationally known, and the dress and costumes are superb. Many shows offer dinner or just a drink, and the prices will be the most expensive for enjoying flamenco. While some people and guide books comment on these as tourist traps there is plenty to enjoy - for a price - and some of the best quality shows take place in tablaos. As I recommend for most of them, skip the dinner and take the drink only option.
El Arenal
(Arenal - c/Rodo, 7)
A tablao that's been around for years, situated in a renovated 17th century building. Choose from a show with dinner or just a drink (cheaper) in a cozy atmosphere where yu can get a close view of a show. I saw my first show here some 15 years ago, opening my eyes to mind to the lure of flamenco.
web: tablaoelarenal.com
El Patio Sevillano
(Centro - Paseo Colon)
Founded in 1952 and moved to it's current location in 1973, one of the first tablaos in Sevilla. Flamenco shows take place in a typicaly Andalusian patio and the building is located right next to the Plaza de Toros and the river. Another choice of a show with dinner or just a drink (cheaper option).
web: elpatiodesevilla.com

El Palacio Andaluz
(Centro - c/Maria Auxiliadora, 18)
Lights, luxury and a big venue. Located on a large avenue catch a glimpse from an outside to see one of the most upscale tablaos in Sevilla. Another place to choose dinner with the show or just a drink.
Las Brujas
(Puerta de Osario/Nervión - c/Gonzalo Bilbao, 10) CLOSED
Typical Andalusian dishes or a drink can be enjoyed while you watch flamenco.
Los Gallos
(Centro - Santa Cruz - Plaza de Santa Cruz)
Founded in 1966, Los Gallos is in the heart of Santa Cruz and a few blocks away from the Jardines Murillo, with 2 shows every night. Again recommended to choose the show with a drink option instead of the dinner.
web: tablaolosgallos.com
Semi Professional to Amateur
As I go down the list it gets harder to distinguish the levels and quality, but here you'll find students or local artists who are very talented and put on great shows. Prices will be much less and in some cases free. One of my favorites is Casa de la Memoria, where you can see an affordable show in a great little venue.
Cafe Cantante Sol
(Santa Catalina - c/Sol)
Another place for a semi-professional show full of talent. Close to Plaza de los Terceros and El Rinconcillo, Sevilla's oldest bar which makes for a great starting point before seeing the show.
Casa de la Memoria
(Santa Cruz - c/Ximénez de Enciso, 28)
You can see Flamenco on a semi-professional level for 9-11€, with two shows every night. Students at local schools who are very talented perform in the 18th century patio, making it a unique venue for flamenco.
Asociacion Antigua de Sevilla
(Arenal - c/Castellar, 50)
Gifted amateurs with tickets starting around 3€.
Flamenco in Bars and other locations
From the improvised and exciting to only singing or guitar you can find some great shows with a little neighborhood atmosphere in these places. Some have regular flamenco nights where you can catch a local act. While most - but not all - will lack the professional talent there's plenty of passion in their performances.
Lo Nuestro
(Triana - c/Betis)
A fixture on Calle Betis for years it's a great place for a little flamenco with a group playing just about every night.
La Taberna
(Triana - c/Duarte, 3)
A great place for an improvised show just down the street from Lo Nuestro. Drinks are all you pay, after that sit back and enjoy the flamenco - normally signing and guitar.
Casa Anselma
(Triana - c/Pagés del Corro)
One of the best known bars of the Triana flamenco scene where Sevillanas is common.
Simpecao
(Triana - Paseo de la O - riverwalk)
Take in a little flamenco right on the shore of the river. Improvised and spontaneous, it's a great place to for flamenco in Triana.
La Madrugá
(Triana- c/Salado)
Close to the Plaza de Cuba, live flamenco weekly.
Sevillanas
(Centro - c/Canalejas, across from Hotel Colon)
In between Calle San Eloy in the center and Plaza de Armas.

Taberna Flamenca
(Arenal - c/Adriano)
In the heart of the Arenal nightlife, and close to the Plaza de Toros.
La Carboneria
(Santa Cruz - c/Levies 18)
Famous from it's mention in almost every guide book about Sevilla, it's still worth a trip. Free music, often Flamenco, can be found in the back covered Terraza, popular in the summer and winter. The front bar with a more rustic, winter pub atmosphere includes a piano, stone walls and floors, fireplaces and wooden tables and chairs. A mix of people, from pijo to earthy, spanish to every nationality under the sun, with plenty of Americans if here for only a day or two. Aside from it's reputation as a tourist bar, when there's a live act and I've got a friend in town they always come away liking the place.
Lola de los Reyes
(Los Remedios - Avda Blas Infante)
More upscale clientele in Los Remedios.
El Rejoneo
(Los Remedios - Avda. Blas Infante)
Don't be afraid to get up and dance here.
El Tamboril
(Barrio Santa Cruz - Plaza de Santa Cruz)
A bar where you can listen to to alittle flamenco, watch or join in with locals dancing Sevillanas.
El Perro Andaluz
(Santa Catalina - c/Bustos Tavera)
Flamenco Thursdays!
Tertulia Flamenca
(Triana - c/Castilla)
Flamenco Fridays!
El Mundo
(Alfalfa - c/Siete Revueltos)
Flamenco Tuesdays!

When it's time for any kind of championship the questions always pop up via email or the forums: "Where can I watch the game?" Many of the Irish pubs have a big screen television and feature live sports on the weekends. Sometimes it's just football (think Europe and not American style) while other times they will show American sports such as the World Series, Superbowl, NFL weekly games, etc. Some of the best places to catch the match or game are below, with some special accommodations or deals set-up for certain events.
Texas Lone Star Saloon (Tex Mex Bar)
(Centro - c/Placentines, 25)
One good location for many sporting events is the Texas Lone Star Saloon, or the Tex Mex Bar as most call it. Every week they show two live NFL games. They also show NBA games and a tape-delayed (1 day) broadcast of the NCAA basketball final on Sportmania. For the NCAA final the place is packed, but unfortunately this past year Sportmania decided to show highlights and the final result of the game right before broadcasting it. For those of us who avoided the news all day so we could watch it as if live were quite upset. You can catch any Betis or Sevilla away matches here on pay-per-view as well, and the crowds are pretty good. If you like the Premier League or other European league soccer games they are likely to carry them, too. These guys do a good job of showing what you want to see - normally you can pass by outside and check out the chalkboard where they post what games or events they'll have that day.
Flaherty's
(Centro - c/Alemanes, 7. Next to the Cathedral)
One bar, Flaherty's, will not show the NCAA Final no matter how many Americans go to their bar. Even though they were open at 2pm the following day when there was a rebroadcast of the game and there were no other sporting events they refused to change the channel (or rather turn on the TV) so some of us could watch the game. Such nice folks...anyway, if it's soccer from the Premier League you want to see they do an excellent job accommodating your needs. Otherwise I'll just add our experience to my ever growing list of reasons why not to go to Flaherty's Pub.
Merchant's Malt House
(Centro - Calle Canalejas, 12)
Another option is Merchant's Malt House on the corner of Canalejas and Gonzalez Abreu. Large screen TV with every Betis and Sevilla away and home match as well as weekly Premier League and rugby matches. At least 10 different bottled beers as well as 3 on tap. Video trivia contests in English and other activities as well.


If you're one of the majority of travelers who doesn't make it here for Semana Santa you can get a glimpse into the madness in one of these bars. They have an atmosphere which will give you a good feel for the festivities in Sevilla. Just about every bar in Sevilla has at least one picture of a cristo or virgen somewhere, but these go one step further.
Bar Garlochi
(Alfalfa - c/Boteros)
On a parallel street behind the Alfalfa you'll find this bar which is - by far - the best when it comes to Semana Santa. You'll think it's a church as you enter the front door thanks to the virgin awating you at the entrance, and inside the walls are full of pictures of Cristos and virgenes. Flowers and candles of course make up part of the decoration, as well as some other memorabilia from Semana Santa. Agua de Sevilla is served by the pitcher. This is Semana Santa sensory overload. And they are friendly at the bar, even if there is a moron there from time to time with an "Americans No" sticker on his shirt. He walked past us several times so we could see it until I finally pointed out what a nice shirt he had.
Bar Rocina
(Alfalfa - c/Boteros)
Bar Garlohci has a neighbor, and while it doesn't have the same overwhelming "Easter" atmosphere the walls are dedicated to Semana Santa processions with plenty of pictures. You'll see a few bufandas of local and not so local fútbol teams, but other than that it's the Holy Week.
La Fresquita
(Santa Cruz - c/Mateos Gago)
It's not uncommon to hear processional music year round here, and incense is frequently burning. Plenty of pictures from Semana Santa, fino and cerveza, as well as a few (standing only) tables outside as the bar is a small one.
El Rincóncillo
(Plaza de los Terceros - c/ Gerona)
Oldest bar in Seville dating back to 1670. The current owners are on their 8th generation dating back to 1800 or so. You can never enter without seeing a tourist but it has a great atmosphere, including a collection of (still full) bottles of liquor some as old as 70 years. They say representatives from the liquor companies come in every so often to try and buy some of the older bottles - but they're not parting with them. A new dining room upstairs in the old employee quarters has turned this into a good full blown restaurant.

Hermanos Emilio
Bodega near UNCAR
Los Claveles
A new favorite watering hole of mine just across the street from El Rinconcillo. I have yet to eat at the bar but I know the woman in the kitchen can cook just by looking at her. Mainly simple tapas to go along with the cold beer. They have done some renovating, but the same old floor is there as is the brick wall. The outside of the bar still sports the old advertisements for fino. The bartenders are always friendly and attentive. Lots of locals from the neighborhood.

If you're looking to get away from the alcohol and nightlife and spend a relaxing evening or afternoon a Tetería may be the place for you. Many offer the atmosphere of Spain's neighbor, Morocco, while others have more of an international feel. Teas, fruit drinks and pastries are common offerings.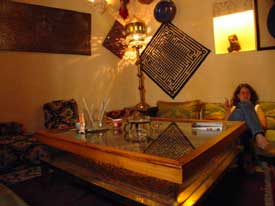 Dar El Mehdi Tetería
(Santa Cruz- c/Federico Rubio, 10)
Newest of the bunch, opening in the fall of 2003, with wonderful decoration. Belly dancing on Friday and Sunday nights.
Tetería Salam
(Triana - c/Luca de Tena 6, just off of Pages del Corro)
Tucked away on a side street offering teasand pastries from the east.
Tetería Internacional Chef Chaouen
(Triana - c/Peley Correa, 83)
From Morroco to India the decoration is a mix. Teas, pastries and live music from time to time.
Bagdad Cafe y Tetería
(Triana - c/Pureza 22)
Just a block behind calle Betis and close enough to the Triana bridge.

El Duende
(Triana - c/Paraíso in the Corona Center)
Tetería Yaomi
(Centro - c/Federico Rubio, 8-10)
Bellydancing on Friday nights!
Tetería Inshallah
(Alameda - c/ Peris Mencheta, 24)
A little bit of everything, with teas, pastries and mixed drinks. Cultural activities and a book shop as well.
Shambala
(Alameda - c/Peral)
Offering teas and various batidos (fruit juices, drinks) as well as tapas.
Tetería Cafe Bar Platea
(Alameda)