WEDDING: Iglesia (Church) San Bartolome
Location: Calle (street) San Bartolome
Date/Time: May 27th, 18:30
The church is completely renovated inside, but the outside still needs work. Thankfully they did not start working on it before our wedding date. We chose it because there is some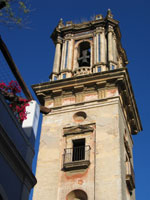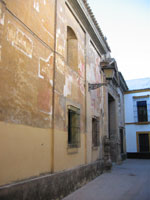 family history (former neighborhood of some of Granada's family), plus it is in a pedestrian only area, and of course it helped that they had the date free which we wanted. To the right and left are two photos so you have an idea of what it looks like from the outside. On this site was a former mosque, then a synagogue, and because it was demolished (except for one wall) to make the church you would unfortunately never know it. The church is approximately 5 minutes away from where everyone is staying, and is a very easy walk.


RECEPTION: Restaurante Julia Los Monos
Location: corner of Avenida de Molini and Avenida de la Palmera
Time: May 27th, 20:30
The reception is across the main avenue from the Plaza de America in Parque Maria Luisa (Maria Luisa Park). Julia is the name of the family who owns the restaurant. Los Monos means "The Monkeys" and thankfully this will not be the band playing at our reception. We have no idea where the name comes from, just know there are no monkeys involved in the wedding...at least not as of this moment. The reception consists of an hour of drinks in the patio which will be air conditioned if needed. Then we all move to the salon for dinner. Should you wish, you will be quite full after all of this. Afterwards there are several hours of open bar and music. Dancing is required. Just kidding.

DINNER:
Location: Restaurante La Juderia
Time: May 24th, 21:30
We would also like to invite you to dinner a few days before the wedding. We have reserved the upstairs dining room in Restaurante La Juderia, which is very close to the hotels. You will see it listed on the map in the following section.


| | |
| --- | --- |
| Who? | Telephone |
| Jeff & Granada | 954 212 136 |
| Jan & Angel | 954 564 540 |
| Jeff mobile | 687 222 937 |
| Jeff office | 954 530 775 |
| Jan mobile | 665 474 648 |
| Granada mobile | 675 196 242 |
| Angel mobile | 665 474 515 |
| Hotel Amadeus | 954 501 443 |
| Hotel Casas de la Juderia | 954 415 150 |
| Hotel Un Patio en Santa Cruz | 954 539 413 |
| Hotel Doña Manuela | 954 546 400 |

We have everyone scattered around a small section of the Santa Cruz neighborhood, all within less than 5 minutes of each other. This area is also known as the juderia, as it was the old Jewish Quarter before the Inquisition made things quite difficult, to say the least, for the population. It is close to the major monuments (Cathedral, Alcazar) and is comprised of mainly pedestrian streets. Below are addresses and photos of the front of each hotel so you will recognize them when you arrive. In the following section are some maps which should help you get oriented.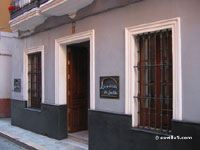 Hotel Amadeus - La Musica de Sevilla
c/ Farnesio, 6
Sevilla, 41004 SPAIN
Tel: (34) 954 501 443
Email: hotelamadeussevilla@hotelamadeussevilla.com
Web: hotelamadeussevilla.com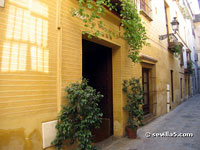 Hotel Las Casas de la Juderia
Callejón Dos Hermanas, 7
Plaza Santa Maria la Blanca
Sevilla, 41004 SPAIN
Tel: (34) 954 415 150
Email: juderia@casasypalacios.com
Web: casasypalacios.com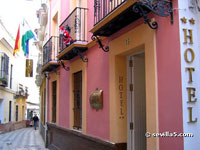 Hotel Un Patio en Santa Cruz
c/ Doncellas, 15
Sevilla, 41004 SPAIN
Tel: (34) 954 539 413
Email: hotel@patiosantacruz.com
Web: patiosantacruz.com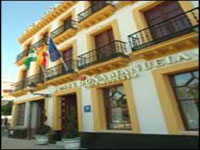 Hotel Doña Manuela
Paseo Catalina Ribera, 2
(Next to the Jardines Murillo)
Sevilla, 41004 SPAIN
Tel: (34) 954 546 400
Web: grupomodesto.com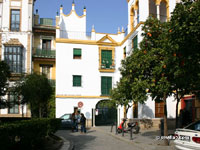 Apartamento Plaza Santa Cruz
Plaza de Santa Cruz 2, 1°C
Sevilla, 41001 SPAIN
Tel: no tel.
Email: jeff@sevilla5.com
Web: sevilla5.com
I don't have photos of our apartments, but you can find us on the maps below.

Jeff & Granada
Calle Gerona 36, Apt. 1A
We are located just next door to the Bar El Rinconcillo, which is on a corner.
Jan & Angel
Calle Imperial 19, 1 Derecha
Located on a street behind the Casa de Pilatos, and a few doors down from the Hotel Casa Imperial.

Below are the maps, with a small description above each. You can also find and download more maps in the map section on the main site.
Larger view of the Santa Cruz area where everyone will be staying and where the church is: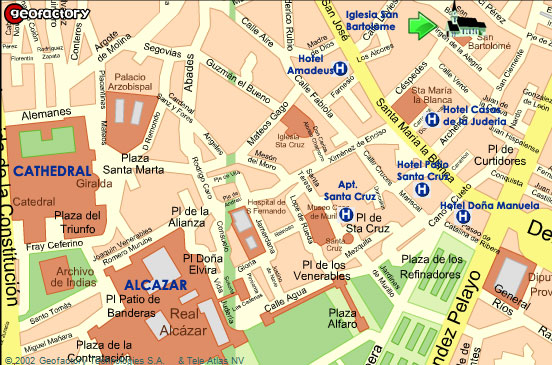 Closer view of the area with hotels and the church:
View of the hotel area as it relates to Jeff & Granada and Jan & Angel's apartments. This is a terrible map, as you cannot read most streets. But it gives you an idea of where we are in relation to the hotels and church. We would have liked to have lived closer, but the real estate market does not permit it.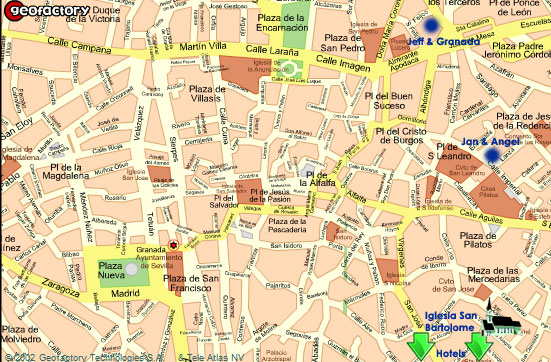 Closer view of Jeff & Granada and Jan & Angel's apartments, in the "poor" section of town. Just kidding, it is very safe, and nice, where we live:

Some will be arriving by plane, while others by train, and as we all know, the rain in Spain stays mainly on the plain...ok, more information can be found in the main site's transportation section. A few notes:
SAN PABLO AIRPORT:
If you are on a very tight budget, there is bus service from the airport to the center. Cost is 2,40 Euros and it arrives every 30 minutes. The stop is about 15 minutes away from the hotel, and I will be honest that you will be much happier spending the 18-22 Euros on a taxi and arriving directly at the hotel itself. I would recommend this, but if you want to take the bus, send me an email and I will send you more information.
For taxis, there is a fixed fare in effect, although it changes from time to time and unfortunately the driver's interpretation" of the fixed fare.. Some taxis may charge you an additional Euro per piece of luggage, although they should not. 18 Euros is the daytime fare; 22 Euros the nighttime (22:00 and later), holiday and weekend fare. If you pay around this much I think you should consider it a positive outcome. The taxi stand is just outside the arrivals terminal.
It is not necessary to tip the drivers, although rounding off the change is ok.
Drivers do not like 50 Euro bills! If possible try to have something smaller. Of course when faced with accepting a 50 Euro bill or not being paid, they generally will figure out a way to make change.
Ride should be 10 - 15 minutes depending on traffic.
SANTA JUST TRAIN STATION
If you have little luggage and want to see some construction work along the way, you can walk from the train station to where the hotels are located. This will take about 20 minutes.
A taxi will take 5 - 10 minutes and should cost between 4 - 6 Euros, depending on the drivers ability to move around the current construction work. The taxi stand is just outside the main exit from the train station.
It is not necessary to tip the drivers, although rounding of the change is ok.
Drivers do not like 50 Euro bills! If possible try to have something smaller. Of course when faced with accepting a 50 Euro bill or not being paid, they generally will figure out a way to make change.

I of course have never been married before. And as a male, perhaps I have less eye for details and differences of traditional American and Spanish weddings. So I asked Jan to step in for this one and write a little bit about the difference between the two. For the most part things are the same, and you could show up without reading this and not have the slightest problem in the world. So now that I have lost most of my readers, we move on to Jan's contribution...ok, I am still waiting for Jan to send this to me...wait, I just received an email, so see below...
Although there aren't many differences between Spanish and American weddings, a few things might surprise you if you aren't expecting them. The first thing that might grab you is that Spaniards don't practice ahead of time. Yep, there is no rehearsal and consequently no rehearsal dinner, although there is a dinner in the works which will soon be update on this web page. The bride and groom have to bank on their imagination and memory over here, but hey, usually everything works out just fine. Besides, those little mess ups make for good stories later on.
The ceremony:
When you arrive at the church, you'll probably see many people milling around outside so to those of us accustomed to having the grooms men usher us in when we arrive, everything might seem a bit chaotic. Remember though, this is organized chaos because everyone knows what they are supposed to do. Here's the deal: There are no grooms men or brides maids in a typical Spanish wedding. People usually wait outside the church with the groom and the "madrina" or mother of the groom, greeting them, friends and relatives as everyone waits expectantly to see the bride drive up. When she enters the church, she will be accompanied by the "padrino", usually the father or a brother of the bride, as is usually the case in the US. The queue to enter the church is the brides entrance, with everyone usually filing in behind her, although occasionally you will see some people scurry in ahead to get a good seat. It is common knowledge that the first few front rows are left for family, so most everyone else starts filling up the seats behind these. There is no need to worry about sitting on the side of the groom or bride – either side is fine. At the altar, the bride will be accompanied the entire time by the "padrino" on the right and the groom by the "madrina" on the left.
The next difference is quite obvious. Be prepared not to understand a lick of what is being said because, yes, the ceremony will be in Spanish. Chances are it will also be a little longer – this is a Catholic wedding! Mass is pretty much an obligation at Spanish weddings, so expect the ceremony to last somewhere between 45 minutes to an hour (Jeff and Granada are doing their best now to shorten this, but it requires some careful negotiations with the church). Most everything said will be quite similar to the US, but usually there are no speakers besides the priest. Another small difference is the hand the wedding ring goes on. In Spain it will be placed on the right hand, not the left.
After a few family photos at the altar, the bride and groom will exit the church and either walk through rose petals tossed by their guests or be bombarded by rice- I'm being serious here, not only do they still throw rice in Spain, they seem to throw it a lot harder. I haven't heard what the plan is, nor would I let Jeff and Granada know ahead if I did. I do know that there will be no bird seed. I've never seen that done in Spain.
The Reception:
Since the "Novios" are off getting their pictures taken, the guests often take their time and chat a bit outside the church before they slowly find their way to the reception. The reception usually begins outdoors with drinks and appetizers, although the appetizers won't appear until the bride and groom arrive. There really are few differences here, but here goes a couple more that I could think of:
You don't usually hear any speeches. Knives banging on wine glasses followed by "¡Qué se besen! ¡Qué se besen!" is a request that the bride and groom give each other a kiss.
Around dessert time the bride and groom usually visit with their guests and distribute little gifts to the women and cigars to the men. This is usually the time to give gifts of money to the bride and groom by placing a small envelope with a note on the gift tray. In Spain it has become habitual to give gifts of money to the bride and groom, instead of having a gift registry at a local store. There are a couple logical reasons behind this; I'll give you my dismal science explanation. Sorry, Jeff, it's my turn to loose them. In Spain, people used to wait to get married until they had purchased and furnished their home. Logically the "lista de boda" at the local department store would get them those little things that they needed to start out with. These days speculation has sent housing prices soaring, far beyond what a young couple can think to spend. With fully furnished rented apartments with little to no closet space being the normal option for those that want to get married before forty, you usually have most of those little things you need already, no place to store what came with the apartment, much less anything for the future. Gifts of money become the logical alternative. The bride and groom can put it in a bank, use it for their honeymoon, or put it toward that future home. As well, for those of you visiting the hope is this may be easier than locating the store where they are registered, and then having to wade through all of the details of a purchase from the registry in Spanish with the store clerk.
This isn't a difference, but Spanish weddings are a blast. Everyone dances, even to children's songs. You'll have to excuse me from the crazy dancing this time, but I think the little guy/gal in my tummy would appreciate a comfy chair.
Can't wait to see you all!


Seville is a tourist city, and the locals are accustomed to hearing Spanglish, as well as other mixes of foreign languages. That doesn't mean they will always understand. But using Hola (hello) and buenos dias (good day) is a nice way to begin things. Otherwise, point and gesture as you speak English to try and get your message across. Just keep in mind there are thousands of visitors every day who do not speak one word of Spanish. They all manage to get by, and almost all have a wonderful time. We are also around to help with anything difficult, and those who have visited Seville before can certainly lend a hand.


Over the last few years, and mainly when I was unemployed in Seville, I put together the information on Exploreseville.com. Below are some sections which should be helpful and hopefully answer some questions. As the information grew I did a horrible job of reorganizing it, but most of the sections speak for themselves. And as I was unemployed at the time, keep in mind that some sections were written after an afternoon of beer at the nearest cerveceria (I wrote fast, and you will find mistakes from time to time) There are of course many more links if you go to the top right of this page.
Basic Info
Stuff you'll need to know like the tourist office, phones, mail, news, prices and banking holidays in Sevilla and Spain. I kind of short change myself in this section - many of the other links include very basic and helpful information as well, but they deserved a section of their own.
Money
What you need to know about it including a guide to the Euro, withdrawing and exchanging (including rates), credit cards, traveler's checks, ATM's and banks.
Transportation
Getting to, around and out of Seville. Covers local transportation like walking, driving, taxi and the bus. Covers travel to and from Seville as in trains, planes, buses and automobiles, including approximate prices, times and frequency of rail trips.
Maps
Maps of Sevilla, Madrid, Granada, Córdoba, Jerez, Toledo and I think that's it. All in PDF format so you'll need Acrobat reader
Safety
Always on the visitor's mind is avoiding the scams and thieves that roam every city. You'll learn tricks for keeping your stuff safe, what sections of the city to avoid during certain times and what to expect.
Internet
Where you can get online in the best cyber cafes in Seville. Also, getting connected in your home or apartment and some internet tools for the traveler. Soon to come is an extended list of locations for cyber cafes.
Dining Out
Where to eat depending on where you're located and the best locals only places to go (until you show up!).
Dining Out International and Vegetarian
Where you can find food from home or another country as well as the ever important vegetarian options. American, Italian, Greek and Mexican are just some of the options in this section.
Nightlife (La Marcha!)
It's about where to go when it's time for some nightlife, depending on where you want to go and what you want to do. Constantly evolving and with many changes planned...
Observations
Some of the curiosities and differences you may notice or simply want to know before your trip to Sevilla or Spain. Reading this will help you prepare for your stay and take the surprise (in a good way) or embarrassment (of course in a good way!) out of your first experiences.