Egaña Oriza |





: c/ San Fernando 41.

: 954 227 254; 954 227 211.

: restauranteoriza.com


: Basque / Creative
Adjacent to the Real Alcazar on the corner where the Jardines Murillo meet the University of Seville, chef Jose Mari Egaña's creations are perhaps the best in the city. Blending the traditional techniques of Basque style cooking with the best fresh, seasonal ingredients from Andalucia and nearby regions, Egaña's perfect fusion is the result of four generations of chefs in the family. When in season, wild game such as jabalí (boar) and venison are highly recommended. A carefully selected wine list, perfect presentation and excellent service are the least to expect. The two floors of the restaurant feature high ceilings with views of the Alcazar gardens through artistic stained glass windows.
Taberna Alabardero |


-




(expensive unless you try the menu at lunch)


: c/ Zaragoza, 20.

: 954 502 721.

: tabernadelalabardero.com


: Spanish / Creative / New Cuisine.
I'll let you in on a little secret. Well it's likely not much of a secret anymore, but you'll enjoy this place if you're looking for a nice lunch at a reasonable price. Eat downstairs at El Alabardero for a full three course meal for 12 € and I guarantee you won't have a better meal in Spain for that price. Note that the lunch menu, in the downstairs portion only, is by far the best deal. This is no bar food or tapas, although I don't have anything against the two. El Alabardero is the school of hosteleria so you get some young waiters who are practicing their skills but at a high level. The menu changes most every day and you might consider the food as being from the new school of Spanish cooking - they're not afraid to use some interesting or exotic ingredients in preparing the dishes. The presentation of the food is also something to be seen. It's upscale at a very reasonable price. Note on some holidays and other events the menu price may be higher. For a truly special meal, which comes at a high price, try the upstairs dining room where you can enjoy excellent wines (by the bottle only) along with some of the best cuisine in Seville.
Enrique Becerra |




: c/ Gamazo 2.

: 954 213 049.

: enriquebecerra.com


: Andalusian
Located in a 17th century house in the Arenal quarter, Enrique Becerra serves traditional Andalusian cuisine with an emphasis on fresh, seasonal ingredients. The downstairs dining area is formal, yet relaxed, including a bar and dining area, complete with columns from the roman city of Italica, just a few kilometers outside of Seville (it should be noted many older Sevillian houses have made use of columns and marble from the city, before restoration and preservation work ever began). Upstairs there are a number of private rooms offering a more intimate and elegant dining experience (reservations required, and this is an excellent "romantic" dining experience should you try). As for specialties, it is difficult to pin them down to just one area. Many generations of family experience in the hostelry business translates to perfection: meats range from veal, iberian pork, beef and lamb roasted with honey, while fish dishes include swordfish, bacalao (cod) and fresh specials. With daily changes to the menu, one must keep an eye out for some of the best offerings. Add an excellent variety of homemade desserts as well as one of the largest selections of wines, finos, and olorosos in Sevilla, and it appears there is no course Becerra can't handle with quality.
Restaurante Horacio |




: c/ Antonia Díaz 9.

: 954 225 385.

: restaurantehoracio.com


: Andalusian
Located between the Cathedral and Plaza de Toros en the Arenal quarter, Horacio serves mostly Andalusian dishes, with a few variations. Both fish and meat is well prepared, with a favorite of mine being the brocheta de rape con marisco (monkfish and shellfish kebab). Other seafood includes sole, and an excellent fish and seafood stew. Meats range from lamb, pork and filet of beef. One large dining room plus two private dining rooms for groups. A nice selection of desserts, good service and a warm and comfortable atmosphere (not too stuffy).
La Albahaca |





: Plaza de Santa Cruz, 12.

: 954 254 177.

: Restaurante La Albahaca


: Andalusian / Creative.
Consisting of 3 separate salons for dining inside a former casa-palacio, as well as a terrace for outdoor dining in the Plaza de Santa Cruz, La Albahaca is known as one of the more romantic restaurants in Seville. The traditional blends with the creative on the menu, where customers can choose from a variety of meat and seafood dishes. A small, and carefully selected wine list often changes depending on the restaurant specials. After dinner one can walk a short 10 meters and enjoy a flamenco show in Los Gallos.
La Juderia |




: c/ Cano y Cueto 13.

: 954 412 052; 954 426 456.

: Restaurante La Juderia


: Andalusian.
La Juderia takes it's name from location, as it is situated at one of the entrances to the old jewish quarter. Owned and operated by Grupo Modesto, which runs Restaurante El Modesto and a few other establishments in the city. La Juderia is a little more upscale, a dining experience complete with table cloths and well dressed waiters. The downstairs dining room is more comfortable and offers a more elegant atmosphere than it's sister restaurant across the street. In keeping with the tradition of El Modesto, La Juderia offers excellent food although a little higher in price. Their specialties include a variety of seafood, but I enjoyed one of the best filet mignons I have ever tasted in Seville. While you could eat tapas in La Juderia, the bar is much smaller than El Modesto. For this reason I recommend it as a restaurant to have the best experience.
Corral del Agua |




: Callejón del Agua, 6

: 954 220 714.

: Corral del Agua


: Andalusian / Romantic.
If you are looking for a romantic setting and don't mind forking over a little money the Coral del Agua helps set the mood. In the middle of Santa Cruz right next to the old city wall, the restaurant is in an 18th century building the most charming section of Sevilla. Dining options include a candlelit table in a plant and flower filled patio. Service is excellent and the food very good. Still, I like this restaurant more for the ambience than for the cuisine.
Becerrita |




: c/ Recaredo 9.

: 954 412 057.

: becerrita.com


: Andalusian / Innovative.
The Becerra family is well known in Seville, and Becerrita is a good example of what the family has done well: one generation handing over to the other without notice. Father, Enrique, whose name graces the family restaurant in the Arenal, leaves Becerrita in the hands of his son, Jesús María Becerra. As with Restaurante Enrique Becerra, seasonal/fresh market often appear as specials on the menu. Although in my opinion the menu is at times a little more creative and less straight Andalusian than in Becerra, as noticeable with some of the main dishes. And in keeping with the family tradition, a large and well selected wine list is available. Dining rooms are very well decorated, with two regional touches: The private dining rooms all carry names of important families, streets or landmarks around Puerta Carmona: Imperial, Medinaceli, Don Enrique, Pilatos and Puerta de Carmona. Decoration and paintings are from Sevillian artists and architects.
Az-Zait |




: Plaza de San Lorenzo 1.

: 954 906 475


: Andalusian / Creative
Receiving many excellent reviews, both in the press and by a few regular exploreseville visitors, I have yet to try this restaurant. Offering what appears to be a very creative variety of dishes, I will soon have more information on this restaurant after a visit.
Restaurante / Bar Eslava |




: c/ Eslava, 3 - 5.

: 954 906 568


: Andalusian / Creative
Just next to the San Lorenzo church (located across from the church bell tower) you'll find one of Seville's most popular tapas bars. There is also a small dining room next door, thus the two numbers on the address above! Lunch can be a good time to make a visit and is generally less crowded. Try the menu del día for a very good value. If possible, make dinner reservations ahead of time or arrive fairly early.
Kiosco de las Flores |




: c/ Betis

: 954 274 576.

: kioscodelasflores.com


: Andalusian / Romantic
Formerly located just next to the Triana bridge (where El Faro de Triana is located now), El Kiosco de las Flores has gone upscale, with a much larger restaurant. Plenty of glass to offer good views of the Plaza de Toros, Cathedral and Torre del Oro across the river. An open air terraza for dining al fresco on cooler nights is a nice choice as well. The specialty has been, and always will be, pescaito frito, carefully prepared fried seafood. The prices are a bit high, the food a good deal better than Rio Grande down the street, and the view perhaps the best reason to come. Certainly a romantic spot.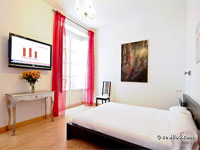 Hotel Un Patio al Sur
Prices start at: 72 €
Hotel Un Patio al Sur is located on a pedestrian street in the central shopping district, close the Museum of Fine Arts. The recently renovated 19th century Sevillian house, (opened in October 2008) includes 11 rooms on two floors. The hotel common areas include a central Andalusian patio covered by a glass ceiling, as well as a roof terrace overlooking the surrounding neighborhood. More information...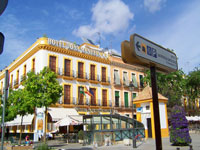 Hotel Dona Manuela Casa Modesto
Prices start at: 80 €
Hotel Dona Manuela is owned and operated by a local company which also runs several of Seville's best restaurants. The location in the Santa Cruz neighborhood overlooks the expansive Murillo Gardens. Guests will enjoy the proximity to many tapas bars and restaurants as well as excellent front desk service. There is also a very conveniently located public garage: access to the underground garage is less than 3 meters from the hotel entrance. More information...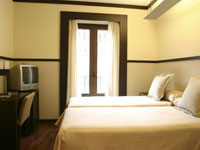 Hotel Alminar
Prices start at: 90 €
The Hotel Alminar is located on a quiet pedestrian street just two blocks from the Cathedral, adjacent to the Santa Cruz quarter and shopping district in the the centre of Seville. The Plaza Nueva, Plaza San Francisco and Plaza Salvador are close by, leading to the main shopping streets of Sierpes and Tetuan. The 12 room hotel occupies a traditional and completely renovated 17th century building. With the small number of rooms, the hotel is able to offer a warm and very personalized service for every guest. More information...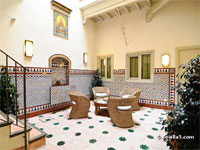 Hotel Casas de Santa Cruz
Prices start at: 86 €
The Hotel Casas de Santa Cruz is located on a typical pedestrian street in the Santa Cruz quarter, between the Plaza de los Venerables, the Plaza de Doña Elvira and the Reales Alcázares. The 7 room family run hotel includes a typical Andalusian patio and small roof top terrace with views of the Cathedral. The hotel offers a free continental breakfast in the family's restaurant next door to the hotel. Free high speed internet access is available via the hotel's WiFi connection.
More information...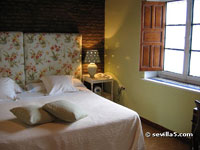 Hotel Amadeus
Prices start at: 100 €
Hotel Amadeus is located in a renovated 18th century manor house of Sevillian style in the Barrio Santa Cruz. Now open for 3 years, the family who previously lived in the house has renovated it and runs the 14 room hotel, ensuring that each guest is well cared for. This is officially listed as a 2 star hotel but I like to place it in the 3 star category for the personal attention and quality of the rooms. Throughout the house you will note a classical music theme, from the paintings and decoration to the two pianos, violins and harp on display. More information...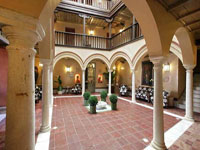 Hotel Sacristia de Santa Ana
Prices start at: 95 €
Hotel Sacristia Santa Ana is the result of an ambitious renovation project which took several years. The building now houses a hotel and restaruant overlook the Alameda de Hercules. Guests will find a large variety of options for tapas, dining and nightlife in the same open plaza. The typical Andalusian home is also a wonderful setting. More information...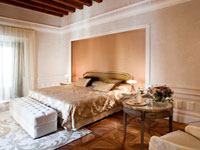 Hotel Casa 1800
Prices start at: 110 €
Hotel Casa 1800 is a new hotel located two blocks from the Cathedral, marking the entrance into the juderia quarter of the city. Guests will have the major monuments at their doorstep, while the narrows streets of the juderia are just behind the hotel. Plenty of tapas bars and restaurants are located along the adjacent Mateos Gago street. More information...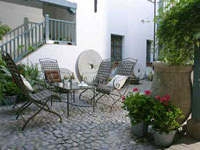 Hotel de Rey de Baeza
Prices start at: 145 €
Hotel Casas del Rey de Baeza is located in the historical centre of Seville, just a few blocks away from the Casa de Pilatos and other monuments. The hotel offers it's guests a high quality exceeding it's standard. This traditional 18th century mansion has 44 bedrooms, each unique in it's architecture and decoration. The Hotel preserves the historic qualities of the house while the rooms are decorated with a modern and elegant touch, ensuring that your stay is comfortable. More information...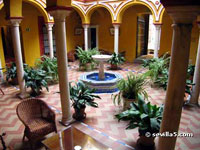 Hotel Casas de la Juderia
Prices start at: 130 €
Hotel Casas de la Juderia is located in the barrio Santa Cruz in the historical centre of Seville, a very short walk from the Cathedral and Reales Alcazar. The hotel is a complex of houses and palaces, interconnected through a series of patios and walkways. Offering 118 rooms, each is unique in it's design and layout. Guests will enjoy an authentic Andalusian style house with flowers, courtyards, fountains and wrought iron gates, blending perfectly with Seville and the Barrio Santa Cruz. The hotel provides a wide variety of services and amenities for their guests.More information...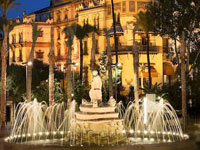 Hotel Alfonso XIII
Prices start at: 220 €
Hotel Alfonso XIII is known as the best hotel in Seville, and some say the best in Spain, while a few others dare to call it the best hotel in Europe! It certainly once was, and the ambitious renovation project which recently ended has done a lot to help. Expect one of the best levels of service as well as an incredible location: everything is reachable on foot, plus there are tram, metro and bus stops just outside the front steps (not to mention horse drawn carriages). More information...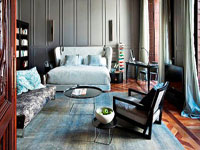 Hotel Palacio de Villapanes
Prices start at: 180 €
On a casual encounter I was able to tour the palace before most of the contents were removed. Interesting items were the first elevator in the city of Seville as well as large mohagany doors which had estimated values of 10 - 15,000 Euros, each! Rooms are divided between an older and more modern wing of the palace. The location is next to a church and the Hotel Las Casas del Rey de Baeza. More information...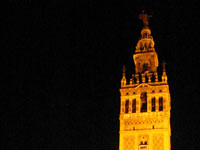 Before 11:00 when the lights go out, get a drink at the outdoor bar on top of Hotel Doña Maria with a view of the Cathedral and all the lights. The hotel may be out of your budget but one drink won't set you back too much. And this is one of the most romantic views in Seville, and worth paying for. Tables can be hard to come by so you may want to get there a little early. If you're lucky enough to stay at the Hotel you can enjoy a dip in the pool on a warm summer night as you muse over the incredible size of the Cathedral.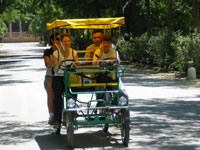 Rent a four-wheeled tandem bike in Parque Maria Luisa to take a quick tour of the gardens. They come in varieties for two of four riders and are a good way to see all of the park if you don't have much time. While they tell you not to take it off the paved streets you'll miss out on half the fun if you don't! Just make sure you've mastered the hand break before you start your trip. And keep an eye out for horse carriages and joggers, as well as the occasional fat and lazy pigeon.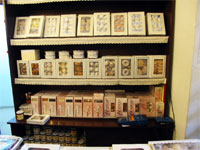 Buy your sweetie some sweets at a local convent - certainly a different experience than a bakery. In many you have an interesting exchange at first. Ring the bell and wait until you hear the nun say "Ave Maria Purisima". You'll likely want to respond by saying "Sin pecado concebido". Now you're ready to ask for what you want, place your money on a turnstile and spin it around for the nun on the other side. Then wait for something delicious to be spun back to you. One of my favorites: San Leandro (famous for their yemas).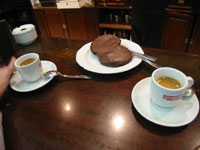 Order a heart-shaped Palmera de chocolate for breakfast at any one of the San Buenaventura locations. My favorite is tostada entera con jamón serrano y aceite. But I can always do with a palmera de chocolate or two as pictured to the right. My favorite two locations? The first and original location on calle Carlos Cañal next to San Buenaventura church (and likely the smallest of them all). The other is in Santa Catalina because they know me there, they're nice guys and it's close to home.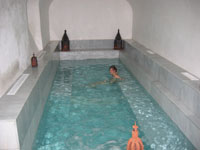 Enjoy a romantic Hammam experience in some of the nicest Baños Arabes, or Arab baths in all of Spain. The complex, called Aire de Sevilla, just opened in Santa Cruz and are hidden away on calle Aire. They have just about everything, from different temperature baths to massages, steam rooms, a teteria and a roof top terrace with a very nice view of the Cathedral. This was the site of some small Arab baths many centuries ago. You can find more information on the baños arabes at: www.airedesevilla.com.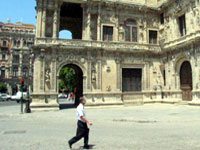 Are you visiting Seville with that special someone? Are you really sure? Perhaps the one you plan to spend the rest of your life with? Drag that someone down to the Ayuntamiento and pass under the arch which joins Plaza San Francisco and Plaza Nueva. Local legend says you will marry the person with which you pass under the arch. If you decide you've made a mistake then find yourself a broom and sweep the feet of that person. An old saying in these parts is if your feet are "swept" then you won't marry.

Take your special someone on a horse carriage ride. While it doesn't come cheap - maybe around 40 Euros - taking a horse drawn carriage ride is certainly romantic. Favorite routes include around the Cathedral and out to the Parque Maria Luisa where you can visit the Plaza de España. If you don't have the money to ride you can take a photo in one - just remember to tip the driver a little something for their trouble!