I recommend spending at the most 2 days in Córdoba. The Mezquita should be first on your list, while the alcazar just down the street from the mezquita is worth a trip but nowhere close to what you'll see
in the alcazar in Seville. Of interest across the street from the Alcazar are some recently discovered Arab baths. Include the Roman bridge and a trip through the streets close to the mezquita in your first day. There are plenty of hotels and cheap hostels located around the mezquita, with the cheaper being further away. You can easily get away with a day trip here if you arrive early, but if you'd like to see the ruins of the Medina Azahara, a Moorish palace and city on the outside of town, it may be best to spend a night and then part of the second day exploring the ruins. You could then return to Seville or go onto Granada. When in Córdoba there are two restaurants I can recommend, although both are on the expensive side. El Caballo Rojo is next to the Mezquita and is quite expensive, but is one of Córdoba's (and Spain's) best restaurants. They are famous for salmorejo or try the ajoblanco, a white gazpacho made with almonds and grapes. Casa Pepe is also another alternative and a bit cheaper. If you ask for either place locals will know and can direct you.
The most visited city in all of Andalucia, and for a good reason. Seville has one of the largest historic city centers ("old town" if you will, a term which I just don't like!). The number of sights and monuments is longer than most cities in the rest of Spain, but a few stand out: The Cathedral, Reales Alcazares, Barrio Santa Cruz, Plaza de España...well it is a long list. Seville is also famous for it's nightlife and incredible number of bars (about 12,000). While tapas are often free in Granada, they cost something in Seville. But Seville has so many more tapas bars and restaurants to choose from that you won't be disappointed. I could mention more, but it is best to visit my web site dedicated to Seville, Exploreseville.com. As well, my other web site dedicated to accommodation, activities and more: sevilla5.com.
I can offer less information on Málaga as I spend a day or so there every year, but never with enough time to visit. Malaga is often a starting place to hit the beach, with most people heading to Torremolinos, Marbella or other beaches in the province of Málaga. The center of the city is the best place to be in my opinion. We stayed in an NH hotel mainly because there was a reduced price and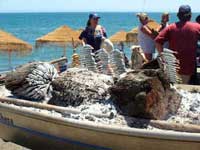 we were heading to the airport in the morning. I do not recommend this hotel if you want to see Málaga itself, as it is further from the center. To eat there are a few well known places on the beach where you can get fresh seafood, including sardines roasted over a fire. There is a nice pedestrian shopping street in the center of the city, with a few good restaurants tucked away close by.
For sights the Alcazar located on the hills above is a great visit and provides views of the city and surrounding beaches. On a trip through the historic center you can take in the cathedral and other buildings. There is also the new Picasso Museum. More information is coming soon, or rather coming when I get back to Málaga.
Ronda is high on most people's list of the typical pueblos blancos in Andalucia and while it's certainly filled with tourists the cliffs and surrounding views will not disappoint. There's a reason everyone is visiting. Again, the cliffs offer some great views and most of the sites are centered here.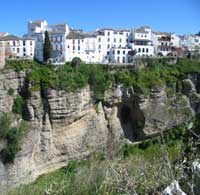 The Plaza de Toros is the oldest in Spain, and while it is no longer an active site for corridas, some very famous names have passed through and entering to see museum is a worthwhile stop. Pedro Romero, perhaps the most famous bullfighter in all of Spain, had a storied career in the venue. Just behind the Plaza de Toros is a park with a mirador, in much nicer shape than it was some 10 years ago. Go to the edge and then look down for a bit of vertigo. If you follow the walkways along the cliff you can continue on with a view, using the Parador's terrace as you wander towards the El Tajo (the cliffs over the gorge) and the Puente Nuevo (New Bridge). The Parador is less in the style of old castles or historic buildings and more a modern establishment. While there was certainly some history to the hotel you don't get a good feel. Rooms are available overlooking the cliffs. Once you round the bend you arrive to a great view of the Puente Nuevo and the buildings perched on the cliffs across the way. The bridge itself lends to two views - towards the open spaces and behind it a deep drop with a number of restaurants and bars with terraces overlooking the River Guadalevín. Across the bridge there is access to a trail that will take you to the foot of the cliffs. Great on the way down but an extremely tiring journey back up. Some 12 years ago we managed lunch below on the trail, but had a hard time keeping it down as we made our way back to the town. Lean ring this lesson we stayed away from the trail during our last trip.
Ronda is a pleasant town just to stroll around. The main pedestrian shopping street, Calle Nueva, leads from the Plaza de Toros to the less tourist areas at the end. On your way through there's a plaza with some outdoor cafes and restaurants with a church and fountain as "centerpieces". We had our meal a little ways away at Restaurante Felix, whose specialty is grilled meat. We had a very good meal for a reasonable price - maybe 15 Euros per person, including a few drinks, large main course and a few dishes for starters. Well worth it was the solomillo iberico (grilled pork loin), the chuletas de cordero (lamb chops) and the beef filet.
Ahhh, Marbella. This is a beach filled with tourists but there are some good things to do. If you like the idea of a vacation which requires no Spanish speaking this just may be your spot. The beaches are nice and for the most part there is space to walk during high-tide. The sunsets from the beach, over the mountains, are beautiful. On a clear day we were able to see Gibraltar and even across to Morocco.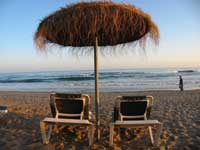 Marbella is heavily developed and much larger than I thought, so much of your experience depends on where exactly you will be staying. But again, if you're here for the beach you don't need much more than the sun and sand. We were at the Marriott Marbella Beach Resort (there are two Marriott's in Marbella) which was off of N340 on the Elviria exit (or "cambio de sentido" as they call it). We had an excellent meal at Merendero Cristina which is next to the Marriott and right on the the beach. Very quick service and excellent food. Some recommendations or ideas for what to do based on our experiences. Old town part of Marbella is very clean and quaint during the day but plenty of action at night. The Plaza de los Naranjos is where you'll find the tourist office and a map. Making your way around the back streets you'll find plenty of good restaurants, pubs and bars. Further towards the water is the Alameda and then Avenida del Mar where the activity is geared towards tourists - gift shops, boat rides and more.
I've separated out some day trips we made from Marbella to Mijas and Benahavis, which you can read below. I have heard that Istan is very nice as well, although we did not have time to make it there. Gibraltar is perhaps an hour away, where you can catch a glimpse of the rock apes (which are really monkeys), explore the tunnels in the rock or stop by a pub for a pint and listen to a curious mix of English and Andaluz. While in Marbella we spent much of our time at the beach as one should do. There is the Castle of Sohail and park grounds right on the waterfront when entering Fuengirola, just off of N340. Originally built in the 12th century by the Almovarides, it is on a hill overlooking the water. This is a convenient stop on your way to Mijas. We did not stop due to time but the views looked great and it is very easy to get off and back on the highway.
If you will be driving to Seville from Marbella, I highly recommend going through Ronda. Use A-376 which takes you from Marbella to Seville and through a natural park, mountains and plenty of scenery. The road itself is in good shape. Ronda and Grazalema are both worth a stop. On your way out of Marbella there are some great views of the ocean from the mountains with plenty of places to stop and take pictures. Part of the natural park you pass through has almost a lunar landscape. This route takes longer than the highway from Marbella/Málaga to Seville, but if you are traveling you will appreciate this over a 4-lane highway to Seville. Ronda is a great stop for an hour, two or more.

Puerta Banus: this is the very rich section of Marbella and I wanted to list it apart. Here you can see all of the yachts and wander along the waterfront, where there are plenty of high-end shops and boutiques, restaurants, bars and expensive cars. We learned the El Corte Inglés parking lot was cheaper than the public lot - the first two hours are free if you have an El Corte Inglés credit card. It's about 2 blocks from the water and if you need to pick up a book in English they have a decent selection in the store. Eating In Puerta Banus is more expensive and there are a number of restaurants, all of which are owned by the same person, which offer a 15 Euro menú del dia. There is an American restaurant on the waterfront, too, should some of you be missing home. This is where the wealthy come to play and you will see your fair share of filthy rich people in designer clothes - it was enough for us to laugh more than once. Check some of the listings in one of the yacht sales offices to see some incredible luxury and very high prices. It seems much of the port serves as a type of used car lot, with many yachts and boats sporting for sale signs.
In contrast to the expat haven of Benahavis this is a very typical pueblo blanco with plenty of expats! They've managed to save the appearance of the typical pueblo blanco although due to it's proximity to the Costa del Sol you'll find plenty of restaurants and shops catering to tourists and relocated Europeans. We enjoyed a morning with spectacular views of the mountains leading down to the sea. There are three main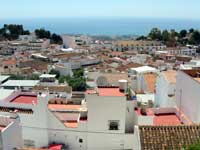 overlooks not including the view from the , monastery, or hermitage of El Puerto, a small building perched well above the town and accessible by foot only. We were tempted by the burro (donkey) taxis, which have room for two but cost 14 Euros. They take you around the center and some people looked like they really enjoyed them. Had they been able to take me up to the top to see the monastery high above I might have paid. There is also a chapel located in a cave near the tourist office which was interesting and much less of a hike. There is a legend of a virgen appearing in the cave and thus up sprang the chapel. The "less impressed by another church" part of me especially liked the air-conditioner wedged into the solid rock wall.
The town offers much in the way or artisans - both local and expat - with some interesting shopping especially around the plaza just below the Plaza de Toros. While we did not make it into the Plaza de Toros and it's museum it is a site to see from outside: a small venue, well kept and bullfights are still held here. Wandering a bit west you can see more of the typical and less touristy part of the village. Whitewashed houses and narrow streets run along the mountain side. It was also here that we saw a house whose iron railings formed the crest of the Real Madrid fútbol club.
Benahavis is a small expat town with very good dining, maybe 15 minutes away from Marbella depending on your location. The drive up the mountain offers plenty of views as you wind your way alongside a river and gorge. We really loved this place even if it was less "typical" than Mijas. And while there is a lot of construction (which you'll see from below upon arriving), the center of the town up above is very nice. There are a few main streets filled with shops and very good restaurants - all of them! We met several people from the UK, including a bar owner who didn't speak Spanish. In this bar we happened upon a Spanish class for Brits who had just recently arrived in the town and had a little fun helping them pronounce some basic words. We were also treated to fresh goat cheese - meant for the class but they had extra and passed it around to the rest of the folks in the bar.
In Benahavis we ate at Restaurante Eugenio Las Cañas, which is on a little plaza and has a dining room which looks out onto the mountains. The meal was very large - a specialty of the town is lamb - and after several courses and some dishes larger than average in size we took an evening stroll around the rest of the town. There are less historical monuments and more "charming" streets, plazas and restraints to be discovered in Benahavis. It's proximity to golf courses and easy access to Marbella has meant high real estate prices and a lot of new construction. The Gran Hotel Benahavis, a nice 4 star accommodation, sits at the foot of the mountain and caters to golfers well.