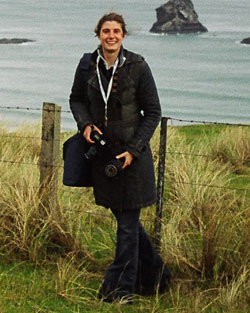 SevillaInside is a unique guidebook written by former Erasmus student Kathrin Harms both during and after her studies in Sevilla. Kathrin grew up as the eldest of four kids in Kiel, northern Germany. After finishing High School she worked as an intern at the broadcasting channel "RTL" and the regional newspaper "Landeszeitung" in Kiel.
In 2000 she began studying Sociology, Political Science, Art and Media Science at the University of Konstanz. While studying she did freelance work for the newspaper "Suedkurier" and the magazine "Forum."
After studying in Seville and writing the guidebook "Seville Inside", she is currently studying Photography, Sociology and Political Science at the University of Canterbury in Christchurch, New Zealand.